JULY 2012 - DONE :)
One Thousand Gifts (by Ann Voskamp)
#1000Gifts #JoyDare

I've taken the 1,000 Gifts Dare for 2012... here we go for...

JULY 2012
Today I find JOY in...


Sun 7/1
531. pinning cares to the cross
532. s
urprise calla lily after the rain
533. bob cat sightings
"This is what I just saw in my bird bath: BOB CAT!!!
He was using my bird bath as a toilet! No wonder no rabbits all week."
Marilyn Meberg via Twitter
Mon 7/2
534. country conversations - corn tap roots & bob cats in our area!
535. leftovers & then stirring up the pool w/our 19 yo son
536. the smell of a roast cooking in the house (all day long!)
Tues 7/3
537. A friend's post: Pardon Me, Your Crazy is Showing
538. The courage for me to publish mine: I Really Thought I'd OUT GROW Crazy!
539. text from my neighbor's pig...
"Greetings from Kentucky. Duchess"
Wed 7/4
540. a repaired dryer - no more clothes hanging all over the place
541. Freedom Fest
542. conversations as the sun sets & fireworks in the distance
Thurs 7/5
543. long awaited pool time w/BFFHeiter & Sam
544. C

urrent o

utside temp... 105!
Very thankful for WATER in the pool... and a COLD, COLD basement family room!
Duchess was thankful for
an air conditioned exhibit barn
545. watermelon, ham sandwiches, veggies & dip
Fri 7/6
546. a 3rd day w/the LOML working from home
547. a dinner of grapes, cheese & crackers :)
548. a husband who understand what "crazy" means
Sat 7/7
549. the sound of Jessica doing homework on her laptop
550. my desire to grow blueberries thrilling the LOML - he says he'd save a fortune
551. date night w/ the LOML
Sun 7/8
552. Brief afternoon rain shower
553. Long hose for struggling garden plants
554. Sunset swim under a gorgeous sky

Mon 7/9
555. collecting clover & feeding goats
556. cooler temps for a change today
557. Indiana sunsets
Tues 7/10
558. butter cookies from Dollar General w/my morning coffee
559. John Barry & the soundtrack from Out of Africa
560. an afternoon of reading GILEAD
Wed 7/11
561. surprise call to walk w/a friend
562. BethAnn & Ben pool afternoon
563. unexpected night home w/my boys
Thurs 7/12
564. knowing that my struggle w/depression is making me stronger
565. forgiveness from a friend
566. some things result from perseverance and hard work
Fri 7/13 - who's superstitious? not me
567. a surprise walk w/a friend
568.
fresh veggies from a parched garden
569. reading GILEAD on the back porch swing
Sat 7/14
570.
talking about solar flares/storms w/my sister on the phone & HEARING "apparently they can affect our GPA's" -- she actually SAID GPS's
571. movie w/the LOML in our cool, COOL basement family room!
572. sitting outside by the LOML as the sun sets & the day ends
Sun 7/15
573. beginning of teaching series Beyond Broken
574.
baby dinosaur egg outside!
575. the back 40, as i call it
Mon 7/16 3 gifts hanging
576. the boston fern hanging basket on my front porch that housed 5 baby finches who are now living in the backyard evergreen
577. the "dream catcher" that my mom made for the children 15 years ago at the lake cabin -- now hanging by our porch swing
578. my head at the altar, as i lit a candle to remind myself that the Light of the world will guide my children as they enter adulthood
Tues 7/17
579. being a part of a ministry to exotic dancers
580. watching the high school band preview the show
581. late night pool party w/friends
Wed 7/18
582. pictures shared with me by a loving grandmother at the hairdressers
583. lunch with lisa & GILEAD book club with sweet friends
584. having to turn on my wipers as i drove - a rarity this summer
Thurs 7/19
585. text from neighbor g
irlfriend as it was raining hard:
"Isn't this the most beautiful day ever!"
586. swiss chard - the taste of Mother Nature
chicken salad & garden greens
happy plate for me!
587. God's painting skills
Fri 7/20
588. morning chores & letting myself stop to read
589. tears as i finished reading GILEAD
590. Grandpa George & Grandma Georgina
photo by Joseph W. Brewster
Sat 7/21
591. broken laptops & homemade tacos
592. marching band friends
593. safety of sister - after near appliance fire
Sun 7/22
594. college speeches & close friends
(in a very small room)
595. early Sunday afternoon nap
596. pizza party & Star Trek re-runs w/the boys
Mon 7/23
595. 50 days until a vacation w/the LOML... counting down
596. forgetting to eat - 'cause i love my volunteering
597. T
oday's JoyDare online: a gift high, low, far away:
moon during the day, cool basement on hot summers & my sins which have been forgiven & forgotten!
Tues 7/24
598. peaches from the neighbor's tree
599. my volunteer job with WomMin
600. Today's JoyDare online: 3 gifts of sand:


1. Sand dollars I found as a child & that now decorate my table 2. Sand in a baggie - a piece of the beach from March's trip 3. Sand in the pockets of my beach bag eagerly awaiting the next trip to the sea
Wed 7/25
601. Mom, read me the story again about when Jesus blesses the children...

602. Christmas in July
603.
Today's #JoyDare - 3 gifts of endings:
1. Ending of Book Club tonight - where eternal friendships were made
2. 4th (and final) movement of Bruchner's Symphony No. 8
3. End of death of sin through eternal life in
Christ.
Thurs 7/26
604. supporting a home for women & children in transition
605.
I am intolerant of the "tolerance police" being only tolerant
of viewpoints that match theirs.
(via Anita Renfroe on Twitter)
606. Outlasting a very JOYOUS cricket while sitting outside with the LOML
Fri 7/27
607. being scammed - that would be an ugly beautiful thing (post to come)
608. celebrating Perris Hobbs!
609. Opening Ceremonies for the 2012 Olympics


(the Queen of England parachuting was da bomb!)
Sat 7/28
610.
The Bible cracked me up this morning!
When the crowds came to John for baptism, he said, "You brood of snakes! Who warned you to flee God's coming wrath? // I'm glad Pastors Lyon & Daniels don't open their sermons this way - ha ha!
611. Reading through sermon notes:
The past is always unchangeable the future is always filled with opportunity. @RevRoll MPC
612. a cool evening for a change :)
Sun 7/29
613. celebrating friendships - Jessica's speech about Aimee
614. water polo on the Olympics when I was feeling like a Sunday afternoon nap (and not something i really wanna see!)
615. Tradition!!! Family Olympic Picnic in front of the TV.
Mon 7/30
616. fresh fruit in the morning


(blueberries, blackberries, peaches, nectarines)
617. fresh veggies in the afternoon


zucchini (yellow & green), squash, cucumbers, tomatoes (red & yellow)
618. Today's JoyDare: 3 gifts heard:
1. Audio Bible in the mornings
2. Wind blowing through the cornstalks
3. Sollie cat snoring in the middle of the night
Tues 7/31
619. my long legs


(came in handy when LIGHTNING struck in the field beside where I was walking!)
620. realizing that I was missing my house key BEFORE I locked the door!
621. WomMin & the Olympics
AND THUS CONCLUDES JULY 2012 #1000Gifts #JoyDare
I've taken the 1,000 Gifts Dare for 2012... click on the name of each month below for each one...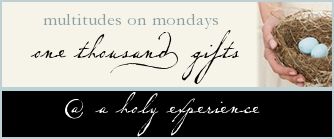 January 2012
... I find joy
February 2012
... I find joy
March 2012
... I find joy
April 2012
... I find joy
May 2012... I find joy
June 2012... I find joy