There have been a lot of times in my life where I've walked in darkness. I've been responsible for some of those times due to my choices. I've walked in the darkness other times due to another's choices.
In the times when I could see nothing... God saw it all. When I didn't acknowledge His presence or power... He still saw it all. When I was walking with Him, yet experiencing seasons of darkness, I may have been at a loss for understanding but was comforted in the knowledge that He was there... working for my good.
I will...
"Praise the name of God forever and ever, for he has all wisdom and power. He reveals deep and mysterious things and knows what lies hidden in darkness, though he is surrounded by light. Daniel 2:20,22 NLT
When I trust in Him, He revels deep and mysterious things to me... in His perfect timing.
Linking with Ann Voskamp - A Holy Experience today...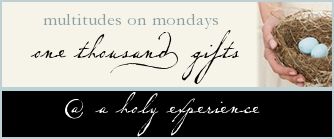 (Note to my three followers - okay a few more than three: If you get a post in your inbox that's not quite formatted I probably wrote it in the wee hours of the night on my phone. Thanks for bearing with me friends!)