The open spaces around my home are being swallowed up by a cold, rainy mist even now, as I write these words. I could see it coming from the fields. I put on a coat & my "muck boots" and ran out with smart phone in hand to capture the mysterious takeover by "Mother Nature."
I stood in wonder as the mist rolled over the fields toward me.
A half a mile to the west, the house & out-buildings seemed to melt away. Glancing quickly to the east, I could clearly see Minnie Belle's house & the barns. Her family settled here nearly 100 years ago. Her husband has gone ahead & remaining loved ones, who've since moved into town, come to check on her daily. Her fields are farmed by hired workers now. And, the animal barns stand empty.
In the time it took to think about my neighbor to the east, a cool mist brushed my face. As I turned to look back southwest toward the coming fog, I could barely see a few yards in front of me. A glance to the right gave me maybe 30 feet of clarity. Another glance to the left gave only a hint of Minnie Belle's farm. In a moment everything seemed to have been swallowed up by mist moving over the snow-covered fields. I stood there in silence & gathered my thoughts.
What a picture this was of my life. Things seem to be clear & tangible one moment. I feel as though I can see what's coming down the road. I take false comfort in that "knowing". Then everything seems to disappear into thin air. It's a great picture of what our earthly lives are like, according to God's Word, and a great reminder that we need not worry about our tomorrows.
"How do you know what your life will be like tomorrow? Your life is like the morning fog—it's here a little while, then it's gone." James 4:14
Just as the fog prevented me from seeing my surroundings, circumstances in life often prevent me from seeing what is really happening in those situations. And in the moments when I am unable to see, I need to trust for direction to come beyond myself. A loving God is always willing to take my hand & lead me... or take my hand & give comfort as I wait for the fog to clear.
"And now, indeed, the hand of the Lord is upon you, and you shall be blind, not seeing the sun for a time. And immediately a dark mist fell on him, and he went around seeking someone to lead him by the hand." Acts 13:11
Today, as I stood motionless -- engulfed in the fog... I gave thanks for the reminders whispered to me, once again, by a faithful & loving Father.
"Faith is the confidence that what we hope for will actually happen; it gives us assurance about things we cannot see." Hebrews 11:1


Linking with Ann Voskamp - A Holy Experience today...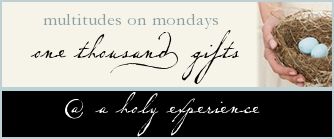 NOTE: Due to a small book club group for women started in 2012 by a friend at my church, I actually picked up & read Ann Voskamp's book, One Thousand Gifts, in early 2012. I began listing gifts then & am planning to continue for years to come. It's a WONDERFUL way to remind myself of God's tender loving care for & faithfulness to me -- and to all his children! I've always been one to get super excited about the little things from God - seeing a mother deer & her fawns while out walking early in the morning, the way the clouds look on a cold -- but sunny -- winter day, the lighting or angle I was able to catch in a photo, the quiet snoring/breathing of the LOML as he sleeps beside me, new fuzzy socks or slippers, an apple right off my tree, etc. Often times my descriptions make no sense to anyone by me & God. So, I decided to expand upon those thoughts in a few posts. So... for today...
#JoyDare No. 2323. rolling fog