Due to a small book club group for women started in 2012 by a friend at my church, I actually picked up & read Ann Voskamp's book, One Thousand Gifts, in early 2012. I began listing gifts then & am planning to continue for years to come. It's a WONDERFUL way to remind myself of God's tender loving care for & faithfulness to me -- and to all his children! I've always been one to get super excited about the little things from God - seeing a mother deer & her fawns while out walking early in the morning, the way the clouds look on a cold -- but sunny -- winter day, the lighting or angle I was able to catch in a photo, the quiet snoring/breathing of the LOML as he sleeps beside me, new fuzzy socks or slippers, an apple right off my tree, etc.
Often times my descriptions make no sense to anyone but me & God. So, I decided to expand upon those thoughts in a few posts. So... for today...
Messy Rooms - #JoyDare No. 2290
Today I'm thankful for messy rooms - because they mean that
great things have happened, that
work is being done or that new things are on the way.
The great room is a mess because last night I removed the ornaments from the Christmas tree (an artificial mammoth of a beast) & the LOML is disassembling it today to drag it down to the basement for storage until next year. The furniture is in disarray & covered with items to be put away for another season. And, connecting it all is a floor littered with baby things - clothes, toys, lotions, shoes, socks, books & more.
The
kitchen table is a mess because J & I are in the process of printing, trimming & organizing photos to put in the photo album that will be given to my mom later today by her first & only great grandchild. The kitchen counters & sink are a mess because... well, just because :)
The master bedroom is a mess because I've done four loads of laundry which are waiting to be folded & put away and because I opted to NOT clean up after playing with the one-year-old yesterday. (And, don't even ask me about the mess on the floor from getting things ready to file our income taxes.)
The entire basement (family room) is a mess because we can't seem to bring ourselves to taking down the balloons & streamers from our party 3 weeks ago celebrating A's FIRST BIRTHDAY. The pool table (which was gifted to us by the previous owners since it was impossible to remove) is covered with gift bags, Sesame Street party hats, pink & red tissue flowers... and presents reminding us of dear loved ones who came to celebrate her BIG DAY.
So, as I reflect upon the ways I see God blessing me today, I see the beauty of my messy rooms! Thank you God for these messy rooms... and even more for what they mean :)
"Be thankful in all circumstances, for this is God's will for you who belong to Christ Jesus."
1 Thessalonians 5:18
Linking with Ann Voskamp - A Holy Experience...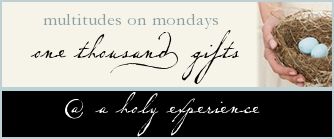 My #JoyDare list for Sunday, 2/9/14: