On this day, November 11th, we North Americans remember, celebrate & honor those who serve our country and have served in the past. M
any people have given their lives so that we could live free from oppression.
I see a lot of American flags posted online. The memorial park I pass daily had American flags lining the main entry road as I drove by today. My email inbox was filled with mail about Veteran's Day sales. In our area, many homes are flying the American flag today. Our hearts swell with pride & thanksgiving for those who chose to serve our country. My grandfather was a veteran. My father served in the Reserves. My niece is training to be a chaplain. One of our daughter's best friends serves in the military at this time. Several of my children's peers serve. I appreciate their service & their sacrifices!
Today, scrolling past all the flags & posts honoring Veteran's Day, I came across a status talking of the birth of a beautiful baby girl. Her birth weight was 6 pounds & 4 ounces. She measured 20" long. She entered this world in silence -- to be held by weeping parents, aunts, uncles & grandparents. As this tiny child grew in the womb of her mother, she became loved by those around her. As the due date approached, the doctors saw signs of distress. Despite the prayers of numerous loved ones & the expert care of medical personnel, the sweet baby girl died in utero before her parents could even hear a first cry for breath.
While one year from today, I'll once again remember & honor those who have served this country, November 11th will never be the same for my friends. They will wake up from now on thinking of what could have been with that tiny baby who was birthed on November 11th and whom they held tightly and kissed good bye.
Life is a precious thing. Hold on to those near & dear - even if only in your thoughts & prayers. Try to look at everyone through the eyes of a mother & father. Each child holds so much potential. Each person holds so much potential. Use your days to the fullest. Make your time here count!
Please join me as I lift this young family in prayer. Pray that they hold on to HOPE that comes from the one who laid down his life for us so that we could have eternal life.
Linking with Ann Voskamp - A Holy Experience today...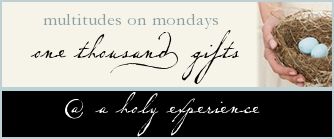 Remembrances - November 11th
11/11/13
http://stuck-in-indiana.blogspot.com/2013/11/remembrances-november-11th.html