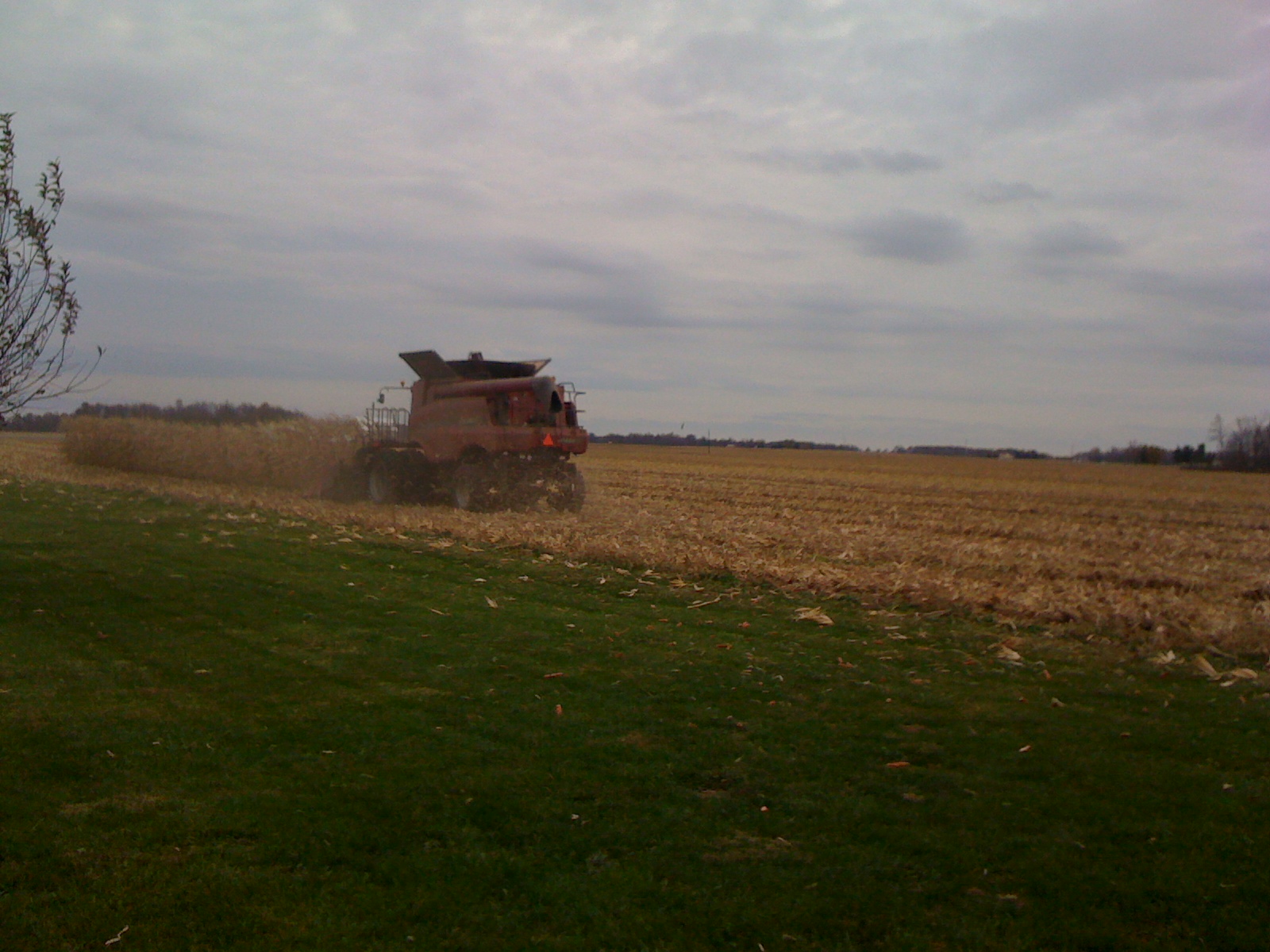 TRUE CONFESSION: I've been mesmerized by the harvest of the HUGE cornfield by our property. The field's approximately 1 mile square & took ALL day long to harvest - with ZERO breaks! The farmer started early in the morning on the southeast side (where the sun was already warming the field & drying off the morning dew). He finished up over 9 hours later. He crossed a road to do another field. I can still hear his equipment off in a distance. I'm grateful that I was able to watch the farmer today at work. I've been held captive by his hard work!
One of my favorite parts about living here has been the
harvest. I'm sure the farmers have been amused at me as I've stood in the "dust of their work" with two cameras in hand - snapping shot after shot. I can't seem to get enough of the view.
Although raised in a rather rural community at the base of the Appalachian mountains, I've never really lived out in the country between miles & miles of open fields. Living here has awakened a new love in me for the mid west! The beauty is simple - yet profound.
I remember a time when I could not imagine life without mountains decorating the distant horizon. The mountains reminded me of the "greatness" of this planet.

I remember a time in my life when I thought I would only be happy living beside the ocean & smelling the salt air each time I walked out my door. Walking beside the sea & watching the sun rise seemed like the best view a person could ever see.
In this season of my life, I am drinking in the beauty around me... right here in the state of "stuckinindiana". The golden hour over a newly harvested field is breathtaking. The waves over a sea of winter wheat as the wind blows over the open spaces out here is gorgeous. The color changes of the soybean fields as they mature are beautiful. The variety of trees in the wooded areas along & between the fields turn a rainbow of colors as the harvest begins & ends... filling my world with color.
I keep returning to this thought lately...
Beauty surrounds us -- everyone of us, no matter where we are, no matter where we are headed. We only need to open our eyes to it.
Linked with the Nesting Place community through the write31days challenge, October 2014 - post No 11.